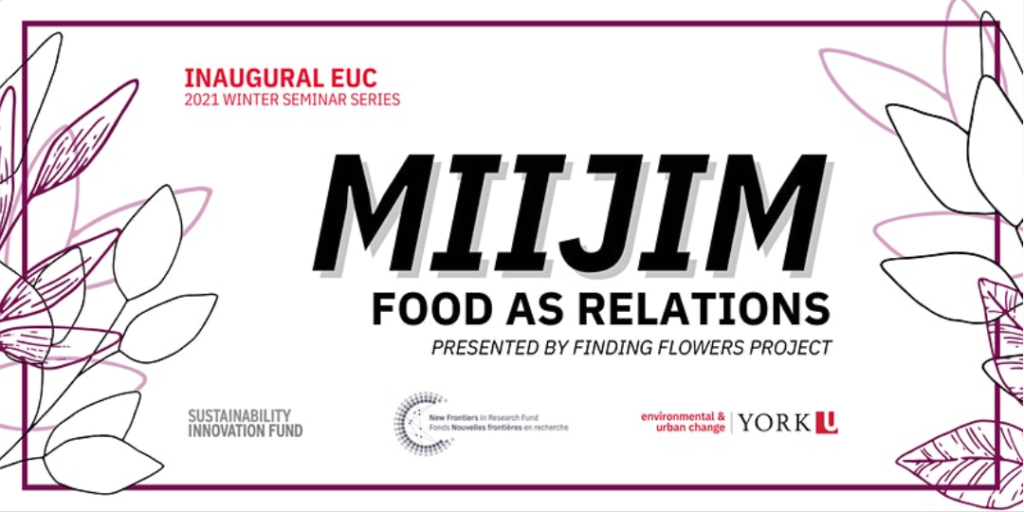 Miijim: Food as Relations was EUC's inaugural seminar series in Fall and Winter 2020-2021 that involved conversations among distinguished Indigenous, Black and People of Colour food scholars, growers, artists, and advocates from all over Canada. The series of events attended by 150-250 participants, some with more than 500 views were presented by the Finding Flowers project co-led by Professors Sheila Colla and Lisa Myers in association with Dana Prieto.
"Miijim is an Anishinaabemowin word that translates loosely to food," says Myers. "The conversations across disciplines, geographies and generations on diverse Indigenous foods, human and more-than-human relations, and on food's capacity to connect people with places, language, and history is intended to help us understand the complex network of food relations," Myers adds.
The Miijim conversational series gathered renowned people virtually to discuss topics such as the various connections between art, earthwork, planting, cultivation and harvesting and the experiences each of the speakers have had pertaining to these subjects. The series talked about how labour and the power dynamics have had an important role to play in food justice in urban and rural communities while decentering colonial frameworks.
The fall series commenced with Indigenous Food Sovereignties as the first topic of conversation. The discussion involved Tania Willard, Secwepemc artist, curator and co-creator of Bush Gallery along with Dawn Morrison (Secwepemc), Founder and Research Creator of the Working Group on Indigenous Food Sovereignty as well as Sherry Pictou, Mi'kmaw professor and Indigenous land and food justice advocate. The discussions focused on their work and experiences in reclaiming land, medicines, food and plants while defending Indigenous sovereignties.
Followed by Black and Indigenous food relations, the talk focused on a discussion by Cree scholar Priscilla Settee on Indigenous Food Sovereignty as well as Leticia Ama Deawuo's work at the Black Creek Community Farm and her personal research on food history. The speakers discussed the intersections of climate change and food injustice and its effects on Black and Indigenous people, while sharing the strengths of working in solidarity across communities.
The third in the series was on Anishinaabe and Haudenosaunee Food Systems that examined food systems specific to cultures, nations, and territories. The event brought together medicine and food scholars and knowledge keepers Joe Pitawanakwat from Wikwemikong First Nation, William Kingfisher from Rama First Nation and Chandra Maracle from Six Nations of the Grand River, who discussed their food-work.
The fourth of the series on Migrant Workers & Food Justice brought activist and advocate Evelyn Encalada and workers' rights organizer and community artist Tzazna Miranda Leal who discussed their calls to action through art and activism, and who raised important considerations of labour and living conditions of workers who grow food that fill in the grocery stores.
The winter series continued on with a discussion on Food and Gardens as Remediation among Indigenous artists using seeds, planting, and cultivation in their practices. T'uy't'tanat-Cease Wyss (Skwxwú7mesh / Stó:lō / Hawaiian / Swiss) and Anne Riley (Cree / Dene) discussed their Constellation of Remediation project that included planting of Indigenous remediation gardens on vacant and untended lots on the unceded homelands of the xʷməθkʷəyə̓m (Musqueam), Sḵwxwú7mesh (Squamish), and səlilwətaɬ (Tsleil-Waututh) nations. Joce Two Crows Tremblay (Mohawk / Pottawatomi / Francaise / Ashkenazi) artist, Earthworker and member of the Indigenous Land Stewardship Circle, also shared their work with the Re-Sistering garden on the Niwa'ah Onega'gaih'ih ~ Kobechenonk ~ Humber River, a project seeking to re-Indigenize land by creating Three Sisters and medicine earthworks on ancestral urban sites.
In Gardens as Art as Relations, the panel discussion delved into contemporary artistic and curatorial meditations on working with gardens, plants, seeds, harvesting, and other land-centred practices. Moderated by Lisa Myers, the conversation opened up with a reflection on Mike MacDonald's Butterfly Garden, followed by a presentation by Mi'kmaq artist Ursula Johnson, scholar and curator Andrea Fatona, curator Crystal Mowry, and artist Christina Battle. The discussion centered on radical, reciprocal, and sustainable ways of listening, caring, thinking and doing towards focusing attention on the human and more-than-human collaborations involved in these weedy endeavours.
The final winter series on Carrying Food, Sounds and Memory brought together Professor Honor Ford Smith, musician Beny Esguerra, and growers Jacqueline Dwyer and Noel Livingston, founders of Black Farmers and Food Growers Collective, who discussed how intergenerational knowledge is immersed in food cultures and carried across borders to Toronto. Through dialogue and improvised performances, the speakers interweaved stories with the multiplicity of rhythms found in Toronto's diverse communities. The session also launched a new project "Oral Histories, Music-Making and Food Justice," that aims to recover local oral histories of food cultures through contemporary musical and sound explorations, in search of caring acts of intergenerational transfer, collaboration and food justice.
"The conversations brought together people who do important work with food and medicine plants across communities. They offered so much on how I understand miijim, and was amazed by people's generosity to be in conversation and to share their work in our seminar series," Myers remarked.
In the same light, "MIIJIM was an enormously rich and impactful inaugural EUC Seminar Series," said EUC Dean Alice Hovorka. "I am struck by the care with which Finding Flowers planned and implemented the series, as well as the engaging sessions that were held throughout the academic year," she enthused.