by Hiba Sha'ath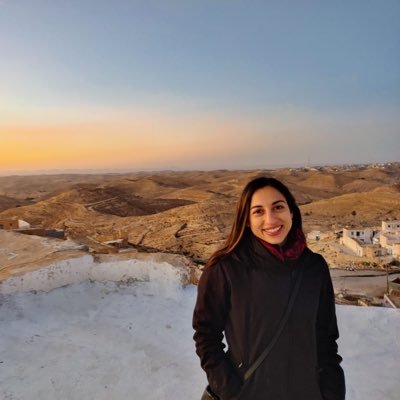 My dissertation examines the impacts of everyday bordering practices on the lives of sub-Saharan migrants with precarious status living in Tunis. Recent years have witnessed a growing securitization of migration along the Southern Mediterranean, made possible through funding and security cooperation agreements that are part of the EU's efforts to harden borders and outsource border management. Legal status checks and differentiated treatment by public agencies, some of the everyday bordering practices used to securitize migration, are part of daily life for migrants in many cities in the Global South. These practices exacerbate socio-economic racial, gender, and class inequalities, and contribute to the violence, exploitation, and fear experienced by racialized migrants in workplaces, homes, and neighbourhoods. I am studying the geographies of surveillance encountered, resisted, and subverted by migrants living in Tunis, a North African city along the Southern Mediterranean coast, and home to many sub-Saharan migrants. I am mapping the everyday geographies and temporalities of border surveillance, their linkages with transnational practices of border securitization, and their gendered and racialized impacts on migrants' everyday lives. Specifically, I inquire how perceptions of risk around being identified, arrested, and detained play a role in migrants' experiences of urban life, their livelihoods, and their housing strategies.
This qualitative study draws primarily on semi-structured interviews conducted between 2020 and 2021 with men and women of sub-Saharan origin living in Tunis with precarious status, and with activists and professionals working on migrant issues. With the onset of the COVID-19 pandemic, I moved to virtual interviews and added questions about the impacts of the pandemic on migrants' lives, the assistance provided by civil society organizations, and the government's approach towards migrant rights. So far, I have learned that:
Bordering practices are carried out at multiple geographical scales by a variety of governmental and non-governmental actors. Everyday identification and legal status checks are carried out by police, frontline staff in public healthcare facilities, municipal staff as part of the provision of other administrative services, landlords, and employers. If found to be in an irregular administrative situation, migrants may be denied service, and in some instances arrested and detained. Bordering practices are applied inconsistently. Migrants identify gaps and inconsistencies that help them to live safe from surveillance even as the arbitrary nature of the practices perpetuates their fear.
Gendered experiences of physical violence cut across public and private spaces. Migrant women reported physical violence, including muggings and harassment on the street; their fear of arrest stops them from reporting such incidents, and exacerbates their vulnerability. Women sometimes experienced violence at home from partners and housemates, who are in some cases their traffickers. Landlords also harassed and physically threatened women in cases where they've contested extra charges or overinflated utility bills. In marginalized neighbourhoods, violence between migrants and local residents occurs frequently enough that it reduces migrant women's sense of safety in the city.
Migrants' strategies for avoiding internal border controls largely depend on their social, cultural and financial capital. For some, strategies of maintaining regular status included registering in private universities to obtain student residency, starting businesses to benefit from funding and support extended to foreign entrepreneurs by the government and international organizations, and seeking healthcare in private clinics rather than in public hospitals to avoid being denied service due to status. To reduce the likelihood of status checks, others limited their movements and interactions by seeking medical care from other community members rather than healthcare institutions, avoiding specific streets or neighbourhoods, and running businesses such as bars/restaurants or beauty salons from home.
While the first few months of the COVID-19 pandemic witnessed the emergence of a remarkable politics of solidarity with migrants, it gave way to state instrumentalization of the pandemic to justify stronger surveillance and securitized measures against migrants. After the first few months of the pandemic when citizens, municipalities, and advocates worked to provide material assistance to migrants who had lost their incomes during lockdowns, the state focused on security considerations justified by tropes of disease infiltrating borders in the form of migrant bodies. With the resumption of international travel in August, 2020, the Tunisian government encouraged migrants to leave by announcing that it would forgive visa overstay penalties for any migrants who returned to their home countries. As media stories continued to highlight the number of sub-Saharan migrants who were caught crossing the borders from Algeria and who tested positive for COVID-19 upon arrival to Tunisia, the securitization of the border ramped up.
This research emerges from my interest in exploring the lived impacts of mundane borderwork in urban life, far away from the border spectacles in the maritime and territorial borders of the EU. I reject the dominant framing in European and North African policy discourses of sub-Saharan migrants as transient "transit" migrants whose presumed onward mobility to Europe must be deterred by border surveillance measures. I argue that such a framing overlooks the years that migrants may have spent in the country and - quite often - their desire to remain there. The framing of Tunisia as a transit state by policymakers thus forecloses possibilities for the long-term integration of migrants and absolves the state from its responsibility towards ensuring their rights are protected. Nevertheless, highlighting the ways in which migrants navigate the gaps and inconsistencies in bordering practices, build cross-cutting solidarities and assert their continued presence in place can point the way to how such securitized practices can be resisted and eventually overcome.
Hiba Sha'ath is a doctoral candidate in critical human geography at York University's Faculty of Environmental and Urban Change and a graduate research fellow at the Centre for Refugee Studies. Her dissertation has been supported by York University's Dissertation Fieldwork Fellowship and Susan Mann dissertation scholarship, the Ontario Graduate Scholarship and a graduate fellowship from the Nathanson Centre on Transnational Human Rights, Crime, and Security. Hiba obtained her MSc. in Migration, Mobility and Development from SOAS, University of London. Prior to starting her PhD, she worked as an analysis and reporting officer with IOM Libya's Displacement Tracking Matrix. Most recently, Hiba has contributed to a study (forthcoming) critically examining the EU's mobility and protection-related initiatives with Tunisia as part of the multi-country project ASILE (Global Asylum Governance and the European Union's Role).