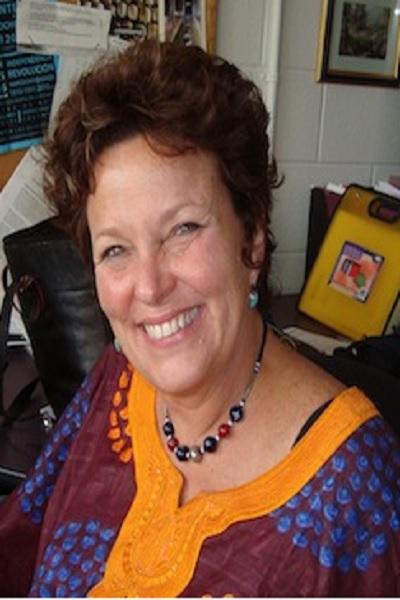 Ford-Smith, Honor
Associate Professor
PhD Education , University of Toronto
MA Adult Education , University of Toronto
BA Theatre and English , University of Wisconsin-Madison

Performance & social movements;
Race, gender, nation & colonialism & post-colonialism;
Caribbean societies & their diasporas;
Community & environmental arts & education.
---
I grew up and was educated in Kingston, Jamaica where I lived most of my life on the Hope Road, ironically built on top of the land occupied by a slave plantation that no doubt long ago contributed much to English coffers. One day, a Rastaman called Bob Marley moved into a house across the street. From there he poured out his songs, changing popular music and representations of African diaspora forever. What a lesson! My research and artistic work is linked by a focus on performance and social change. Initially focusing on gender, class, drama, popular culture and popular education, I became active in the Caribbean women's movement creating plays and popular dramas dealing with critical social issues. I worked in collaborative theatre, collected oral testimonies about women's lives and researched the contribution of the Jamaican women's movements to anti-colonialism.
I then turned to the study of performance as a site of anti-imperial nationalism in postcolonial Jamaica. Critiques of Western development paradigms, racism and mixed race identity, community arts practice and organizational democracy have been themes of my work especially as these are linked to social movements in the former colonized world. I became interested not only in what we know but also in how we know and began a search for methods of knowledge creation that rupture colonial knowledge-making practices underlying what one Jamaican writer has called "the unfinished project emancipation" (Brodber). Presently I am working on questions of place, memory and violence in the context of neo-liberal globalization. I am interested in ways in which neo-liberal violence has ruptured people's relationship to place and the ways in which performances of various kinds represent and can represent this. I welcome the challenge of working at FES because it allows me to bring together many interests across the disciplines and to work on the development of a critically engaged curriculum.
Research
Youth and community development in Canada and Jamaica: A transnational approach to youth violence, Collaborator with Andrea Davis (CERLAC), SSRHC Partnership Development Grant, 2011-2013.
Memory, Urban Violence and Performance in Jamaica, SSHRC Standard Research Grant, 2008-2011.
The Soucouyant of Hope Road, Level 2 Writing Grant Award from Toronto Arts Council, 2002.
Awards
Otto Rene Castillo Award for Poltiical Theatre to Sistren (Sisters) Theatre Collective, Jamaica
Best Film/Video Documentary Production, XXII, Black International Cinema for Honor Bound directed by Jay Prychidny, Toronto, Canada: Leda Serene
Selected Publications
2019 "The Body and Performance in 1970s Jamaica: Toward a Decolonial Cultural Method." Small Axe, vol 23 no 1, 2019 pp 150-168.

2018 "Performing Queer Marronage: The work of d'bi young anitafika." In Q2Q: Queer Canadian Performance Texts. Toronto: Playwrights Canada Press.

2017 "The Ghost of Mikey Smith: Space, Performance and Justice". In Caribbean Quarterly, Vol. 63. Issues 2-3.

2014 "Vigils,murals and the politics of popular commemoration in Jamaica." At the Limits of Justice: Women of Colour respond to Terror. Ed. Suvendrini Perera, and Sherene Razack. Toronto, University of Toronto Press.
2012 "White women and anti-colonial drama: Cicely Howland in Jamaica." Mixed Company: Three Early Jamaican Plays. Ed. Brewster, Yvonne. London: Oberon, 211-221.
2011 3 Jamaican Plays: A Postcolonial Anthology (1977-1987), Kingston, Jamaica: Paul Issa Publications.
2011 "Whose community? Whose art? The politics of reformulating community art in Canada." Critical Perspectives on Canadian Theatre in English: Community Engaged Performance. Ed. Julie Salverson. Toronto, Playwrights Canada Press (revised version of 2001 article).
2005 Lionheart Gal: Life-Stories of Jamaican Women* (with the Sistren Theatre Collective), Mona, Jamaica: University of the West Indies Press. Including a new afterword by me. (first published 1986).